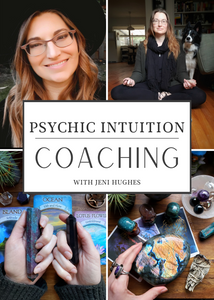 Psychic Intuition Coaching
Regular price
$85.00
$0.00
Psychic Intuition Coaching
Are you looking for help to develop your spiritual gifts? If you are an empath or feel that you are psychic and trying to understand what your spirit guides are saying, I can help you develop your psychic gifts.
My name is Jeni and I'm a psychic intuitive. My main gift is Claircognizance, but I also have all the other Clairs. Clairaudience, Clairsentience, and Clairvoyance are also highly developed psychic gifts I use daily.
Jeni Hughes is a Certified Flowology Essential Oil Energy Healer, Oracle Reader, Akashic Record Reader, Crystal Shop Owner, and Spiritual Intuition Coach.
Everyone has intuition, but not everyone knows how to tap into their intuition and use it to help them with their everyday life.
​
Imagine being able to feel your way through major decisions and make the right choice. Being an empath is a gift and not a curse when you know how to work with it! I help empaths and those new to the spiritual world unlock their gifts and use them as a tool.
In this session, I help you;
* Discover what your main gifts are & how to develop them
* Give you tips on how to work with them in everyday situations
* Grounding techniques
* Meditations
* Journal prompts to help you dig deeper into yourself and find out who you are meant to be.
Each session is an hour long and you can ask those burning questions to help get you on the right path and stop doubting your intuition. You have the option to have the zoom session recorded for you to refer back to.
If you have any confusion about this listing, please email me and I'll try to answer any questions you may have.
Once you purchase a session, please schedule a time in Calendly. 
Disclaimer: Please note that this coaching is not for seeking medical advice. The advice Jeni provides should not be used to replace medical, legal, or mental health services. If you are experiencing a mental health emergency, please seek care from a professional medical and/or mental healthcare provider.
---
Share this Product
---
More from this collection