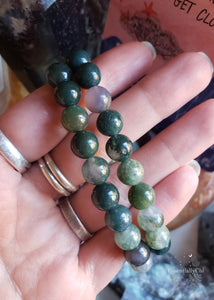 Moss Agate Bracelet
Regular price
$15.00
$0.00
This listing is for one Moss Agate stretch bracelet. The beads are about 8mm and the bracelet is about 7 inches around. 

I will intuitively choose one for you. 
Moss Agate Meaning
Along with prosperity and creativity, Moss Agate is known to encourage emotional balance and tranquility. It helps to strike a balance between too much aggression and too much nurturing, the differences between male and female energies. It harmonizes those energies and brings them back to normal.
It can inspire new creative ideas. It attracts abundance and improves self-esteem, self-expression, and communication.
Agate is an excellent stone for rebalancing the body, mind, and spirit while eliminating negativity. Agate is perfect for those who have short attention spans, providing a grounding effect. It helps enhance mental function, improving concentration, perception, and analytical abilities. A soothing and calming stone, especially for those who suffer any kind of emotional trauma. It creates a sense of safety by dissolving internal tension. 
*Inclusions and imperfections are typical with natural crystals. All images are pictured without color enhancement so you can see the true colors of the crystal.
Follow me on Instagram @EssentiallyChi for crystal live sales and Spirituality-related topics. You can listen to my Essentially Chi Aligned Podcast for in-depth Spiritual topics!
---
Share this Product
---
More from this collection