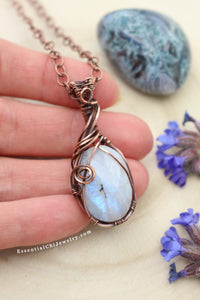 Angelica Blue Flash Moonstone Copper Necklace
Regular price
$45.00
$0.00
This Rainbow Moonstone Copper Wire-Wrap Pendant brings beauty and elegance to any look. Double-sided, it shines with a magnificent blue flash, perfect for both nights out and everyday wear. But its beauty holds more than just aesthetic pleasure; it also provides powerful emotional and spiritual healing.

Rainbow Moonstone's metaphysical energy is associated with new beginnings and inner growth. It can provide comfort and stability during periods of heightened stress and emotional instability. Associated with the water element, Moonstone helps its wearer to go with the flow of life. It can also be used to align the third-eye and solar plexus chakras, making it especially beneficial for the zodiacs of Cancer, Libra, and Scorpio.

If you're an empath, light worker, or healer looking for emotional and spiritual balance, this stunning and powerful Rainbow Moonstone pendant is an ideal companion to have on your journey.
The pendant is 1.75" in length and hangs on an 18" copper chain. If you would like a different length of chain, please specify in the notes at the beginning of checkout. 
Be sure to always clear your crystals with selenite for optimal use. 
*If you are looking for something in particular, but just can't find it, please contact me! I have lots in stock not listed on the website yet. 
Sign up for my newsletter to get mindset tips and the latest crystals delivered to your email. You can also listen to my Essentially Chi Aligned Podcast for in-depth Spiritual topics!
---
Share this Product
---
More from this collection