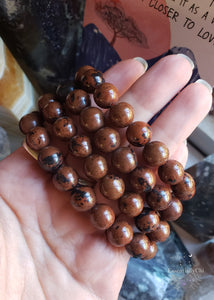 Mahogany Obsidian Bracelet
Regular price
$12.00
Sale price
$14.00
This listing is for one Mahogany Obsidian stretch bracelet. The beads are about 10mm and the bracelet is about 7.5 inches around. 

I will intuitively choose one for you. 
Mahogany Obsidian Properties
If you're feeling a bit vulnerable, mahogany obsidian is a great protective stone. It's not only a grounding stone but one that gives strength. It can also aid in decision-making and visioning.
Mahogany Obsidian is a silica-rich volcanic rock that helps to connect the base or root chakra with the sacral chakra. If you are needing grounding during meditation, this is the perfect crystal. It is also known as the stone of strength and will help build your strength in times of need. Mahogany Obsidian will help deflect negative energy and psychic attacks. It is also the stone of reflection and can help you analyze the areas in your life that need attention. 
*Inclusions and imperfections are typical with natural crystals. All images are pictured without color enhancement so you can see the true colors of the crystal.
Follow me on Instagram @EssentiallyChi for crystal live sales and Spirituality-related topics. You can listen to my Essentially Chi Aligned Podcast for in-depth Spiritual topics!
---
Share this Product
---
More from this collection