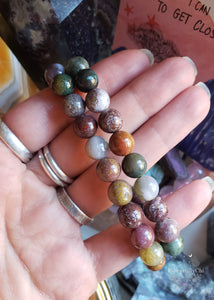 Ocean Jasper Bracelet
Regular price
$18.00
$0.00
This listing is for one Ocean Jasper stretch bracelet. The beads are about 8mm and the bracelet is about 7 inches around. 

I will intuitively choose one for you. 
Ocean Jasper Meaning
Need a pick-me-up stone? Ocean Jasper helps relieve stress and worry. It helps elevate your mood, spark joy, and feel more optimistic. It is a grounding stone as well as a protection stone. Ocean Jasper is also useful for protection during astral travel.
Ocean Jasper is associated with the heart chakra and root chakras and helps promote unconditional love while keeping you grounded. It helps heal old wounds as well as clears lower negative energy vibes. OJ helps you let go of the old and gives you confidence during significant changes.
When stressed, pick up Ocean Jasper to help you see your situation from a higher vibrational perspective.
*Inclusions and imperfections are typical with natural crystals. All images are pictured without color enhancement so you can see the true colors of the crystal.
Follow me on Instagram @EssentiallyChi for crystal live sales and Spirituality-related topics. You can listen to my Essentially Chi Aligned Podcast for in-depth Spiritual topics!
---
Share this Product
---
More from this collection