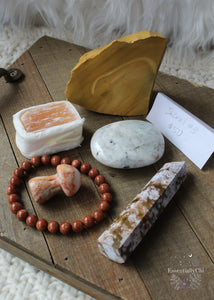 Sacral Chakra Set 3
Regular price
$50.00
$0.00
The Sacral Chakra is our creativity center, for those with wombs it is also where creation happens! Pleasure and deep emotion come from the Sacral Chakra. This chakra encourages us to experience all of our five senses through movement, emotions, and flow. 
The Sacral Chakra is associated with the element of water, and like with Tarot & Astrology, is full of emotions, so balancing this chakra is important to stay in a good flow. 
If you have an overactive Sacral Chakra you may have addictive behaviors and dive deep into wanting too much pleasure without balance or feeling an overwhelming wave of emotions and codependency.
An underactive Sacral Chakra may have symptoms of being callous or detached from your emotions, you're not able to express your emotions, lack of creativity, and low sex drive.
If you have been struggling to tap into your creativity, having a good sacral chakra tool kit can help you regain your momentum. 
This Sacral Chakra kit includes:
1 Mookaite Freeform
1 Orange Selenite chunk
1 Rainbow Moonstone Palmstone
1 Red Vein Jasper Mushroom
1 Red Jasper Bracelet
1 Ocean Jasper Point
You will receive these exact crystals in this set. 
*Inclusions and imperfections are typical with natural crystals. All images are pictured without color enhancement so you can see the true colors of the crystal.
Follow me on Instagram @EssentiallyChi for crystal live sales and Spirituality-related topics. You can listen to my Essentially Chi Aligned Podcast for in-depth Spiritual topics!
---
Share this Product
---
More from this collection